News
Published on November 18th, 2019 📆 | 4094 Views ⚑
0
Hack of a passion: City hosts first info security meet | Ahmedabad News
Ahmedabad: Close to 400 flocked a city-based venue to understand more about information security and new ways of penetration testing (pen-testing) on Saturday as Ahmedabad played host to the maiden Security BSides event. The organizers said that about 50% of the attendees had come from Ahmedabad and other parts of Gujarat.
"Tribe of cyber security enthusiasts is growing in Gujarat. Hacking was a fancy word a few years ago but now it's a passion-driven career with challenges growing by each passing day. The event was a nod to this group that wanted to know the latest developments in the field," said Dipen Wadhwa, a member of the organizing team.
The event witnessed lessons in network pivoting, pen-testing for GraphQL and web-based services along with new attack tactics, techniques and procedures (TTP) with case studies from across the globe. Frans Rosén, a leading bug bounty hunter and security analyst from Sweden, was keynote speaker at the event.
Nikhil Srivastav, a member of the organizing team, said that they also organized sessions on issues such as RFID hacking which is an emerging security issue. "Two workshops covered topics of advanced Red Team attacks and server-side request forgery," he said.
Mukesh Soni, a cyber security consultant with a top consulting firm based in Mumbai, said that recent cyber attacks across the globe has underlined need for newer approach for cyber security. "It was an opportunity for many students and professionals to show their skills and upgrade their knowledge. We see more and more youths from Gujarat getting interested in offbeat career path as penetration testers," he said.
This UGV can hack!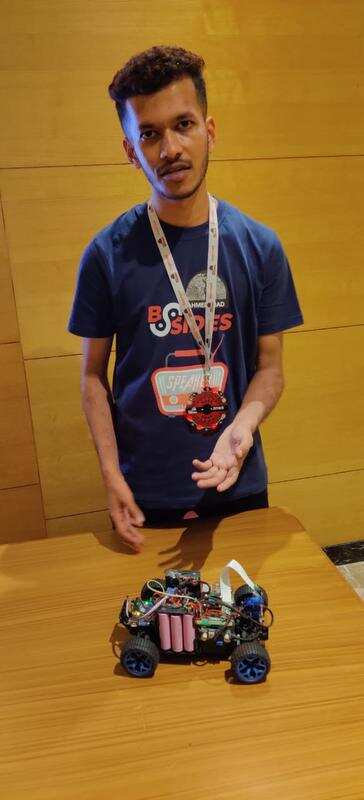 Remember the Dhoom 2 scene where Hrithik Roshan uses a remote-operated vehicle to steal a diamond? Now imagine the vehicle with operator sitting scores of kilometres away from the site who steals something more valuable than a diamond — data. Seedon D'Souza, a Bengaluru-based security researcher and innovator, delivered a talk on 'Kali on Wheels' at the event where he demonstrated ability of a Kali Linux-loaded unmanned ground vehicle (UGV). "The idea was to demonstrate future of hacking where a person need not be anywhere near the premises. The vehicle can remain dormant for designated time, can be manoeuvred remotely and most importantly, it could be used for system penetration with entire array of tools at the hacker's disposal," said D'Souza. The vehicle gives freedom for a penetration tester to perform testing from anywhere in the world as long as both the devices have stable internet connectivity, he added.
'Mobile application testing is on the rise'
Sweden-based Fredrik, better known as his online identity STÖK, is one of the leading bug bounty hunters of the world. In Ahmedabad for the BSides event, STÖK told TOI that emerging trend in the world of online security is mobile application testing. "Companies are spending a lot of money on architecture and user experience. But as updation cycle is getting faster, they sometimes lack security," he said. He added that there is rise in interest in security and penetration (pen) testing among youths in India. "A lot of talents are coming from India who are hungry for success. I see more and more Indian hackers coming to the scene which is really good," said STÖK. In a word of caution for the young users, he said that one has to understand the risk to protect oneself and thus basic knowledge of cyber security is recommended to remain safe online.
loading...